Updated on September 16, 2023 by admin
Miyan biwi ka rishta duniya ka sab se muqadas, or khubsurat rishta hai. Allah ne pehla rishta jo duniya main qaim kiya wo miyan biwi ka rishta tha. Ye rishta jitna paidar or paak hai, kai lihaz se utna hi kamzroo bi hai. Is rishtay ko qaim rakhnay k liye quran pak mein bht si ayat mujood hain jo Dua k tor par parhi jaa saktay hain or jiski madad se shohar k dil mein mohabbat paida ki ja sakti hai?
Shohar ke dil mein jaga banane ki dua aap poora aqeeda rakh kar parhye In sha Allah, kamyabi zaroor haasil hogi. Ye dua urooj maah ki pehli Jummerat se shuru hogi. Raat ko jab sonay jayen to theek us se pehlay ap padhein.
Sab se awwal ap wazu karlijye sunnat tarike se.
Phir bistar chahay zameen par ho ya kisi bed par bas paak saaf hona zaroori hai. Us par jaa k baith jaein.
Phir 11 baar durood shareef parh lein.
Phir bismillah parhnay k baad Quran-e-pak ki ayat# 30 ka chota sa hissa QAD SHAGAFAHA HUBBA 101 baar prhain.
Or aakhir mein phir se 11 baar durood shareef parhain.
Yaad rahay pooray waqt dua prhnay k doraan shohar ka tasawur kijye.
Ye wazifa 11 din tak padhiye or agar koi faida na ho to 21 roz tak karen.
Inshallah, aap k shohar k dil mein mohabbart paida hogi. Or wo sirf aap ka ban k rahy ga.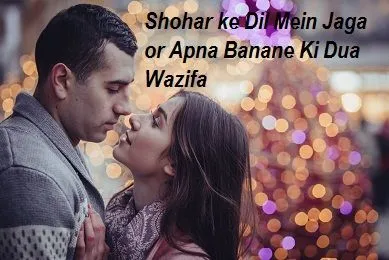 Shohar k dil mein jaga banany ka wazifa
Miyan biwi ka rishta sirf tabhi qaim reh skta hai jab donon k dil mein aik dosray k liye mohabbat or izzat ho. Lekin phir bhi har koshish k bawajood aap apnay shohar k dil mein jaga nahin bana pa rahi hain to phr aap Allah (SWT) ki taraf rujo kar sakti hain or Allah (SWT) se madad le sakti hain.
Shohar k dil mein jaga banany ka wazifa ko parhnay k liye aap ko kisi ki ijazat lainay ki zaroorat nahin hai. Ye wazifa Quran o Hadees ki Roshni main miyan biwi k darmiyaan mohabbat paida karne k liye hai.
Ye wazifa un k darmiyaan mujood har qism ki pareshani ko door kar sakta hai.
Sab se pehlay wuzu kar lein. Us k baad 2 rakaat namaz nawfil parhen.
Donon rakaat mein 1 baar surah fatiha or 1 baar surah ikhlaas parh kar salaam phair kar kharay hojayen or 3 hazaar martaba YA AZEEZU parhain 3 din tak.
Phir 4 din 5 hazaar martaba YA AZEEZU parhain.
Ye amal 7 din tak jaari rakhain inshallah shohar k dil mein aap k liye mohabbat paida hogi.
Shohar k dil mein mohabbat paida karne ka wazifa
Har aurat ki khwahish hoti hai k wo apnay shohar k dil mein mohabbat paida kar sakay. Lekin phir bhi apni har koshish k baad bhi wo aisa karne mn agar nakam rahe to mayoos nah on. Sb se pehlay ye zaroori hai k aap apas mein baat cheet kar k maslon ko hal karnay ki koshish karen.
Lekin agar us se bhi koi faida na ho to aap hamaare Shohar k dil mein mohabbat paida karne ka wazifa ka sahara le sakti hain. Is maslay ko hal karny k liye ye wazifa kar sakti hain aap or wazifa ye hai k wazu kar k din mein kisi bhi waqt YA WADOODO ka 800 baar wirad karain or Allah pak se apnay maslay k baray mein dua karain.
Ye amal aap ko 7 din tak karna ha In sha Allah, aap ko kamyabi zaroor haasil hogi. Is mohabbat ke wazifa ko karnay k liye kch sharait hain? Sharaait mundarja zail hain.
5 waqt ki namaz ki pabandi zaroori hai.
Wazifa kisi k nuqasaan ki niyat se mat karain.
Wazifa ba wazu halat main karain
Wazifa pooray yaqeen k saath karain.
Is wazifa k elawa 1 or wazifa or bhi hai jo aap kar sktay hain.
Ye wazifa miyan biwi mein se koi bhi aik kar skta hai.
Ye wazifa din k kisi bhi waqt kar sktay hain.
Sabse pehle wazu kar le.
Phir zameen par ya kisi bhi saaf jagah pe baith jaye.
Awwal Durood Shareef 11 martaba parhain.
Phir "Bismillah Hir Rehman nir Raheem" parhain 101 martaba.
Aakhir mein Durood Shareef parhe 11 martaba.
Allah (Swt) se apne shohar ko apna banane ki dua karyn.
Insha Allah, apki dua qubool hogi aur apke shhohar k dil mein aap k liye mohabbat paida hogi.
Yaad rahe k ye amal bina ijazat ke kaam nahi karega. Is liye isko karne se pehle aap Islamic astrologer se ijazat zaroor le. Insha Allah, aap ko zaroor kamyabi haasil hogi.
Shohar k dil me jagah banana
In Islam, a strong and healthy marriage is built on mutual love, respect, and understanding. If you want to create a special place in your husband's heart, there are several things you can do:
Show him love and respect. Show your husband that you love and respect him by treating him kindly and with consideration. Show him that you appreciate the things he does for you and the family.
Be supportive. Be there for your husband during times of stress and difficulty. Listen to him when he needs to talk and offer support and encouragement.
Be understanding. Try to understand your husband's point of view and be patient with him. Remember that everyone is different and that we all have our unique ways of thinking and behaving.
Show interest in his interests. Show an interest in your husband's hobbies and interests. Ask him questions and try to understand what he likes and why.
Show appreciation: Show your husband that you appreciate him by expressing your gratitude for the things he does. Let him know that you notice and appreciate his efforts.
Be a good companion. Spend quality time with your husband, talking, laughing, and doing things together. Show him that you enjoy his company and that you are happy to be with him.
Dua: Make dua (supplication) to Allah for your husband's love and affection for you.
Remember, building a strong and healthy marriage takes time and effort from both partners. Communication, patience, and understanding are key.