Updated on September 20, 2023 by admin
Shohar Ko Apna Banane ka Wazifa: Dua allah se kalaam karnay ka sab se taqatwar zariya hai. Hamein kisi bhi qisam ki pareshani ko door karne k liye Allah (SWT) se Dua k zariye madad maangni chahiye. Shadi shuda aurton k liye boht si parehsaniyo main se aik shohar ki muhabbat ko haasil karna hai. Shohar ko apna banana har aurat ka khawaab hota hai, or agar us ka ye khawaab poora ho to us aurat ki zindagi k tamam masail bhi kam ho jatay hain.
Lekin shohar ki musalsal laparwahi khushiyun k darwazay band kr deti hai. Apnay dukh dard ko door krnay k liye aurat sirf duaon or allah ki madad he leti hai. Islam me shohar ko apna banane ki dua bataayi gayi hai. Jis patni ka shohar use pyar nhi karta unke liye is post me 100% asarkaari dua bataayi gayi. Wo is post me diye gaye tarikon se apne shohar ko apna bana sakti hain zindagi bhar ke liye.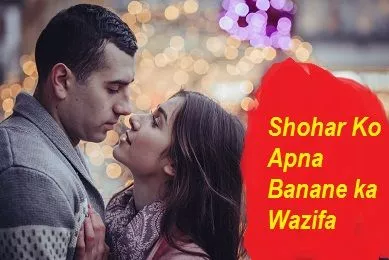 Shohar k dil mein muhabbat paida krnay k liye or us ko apna tabaidaar banany k liye din mein kisi bhi waqt ba-wazoo halat mein quran pak ki surah al-jathiyah jo quran majeed k 25 sipaaray mein mujood hai us ki ayat 36- 37 saat baar parhain or Allah (SWT) se dua maangain or agar aap ka shohar aas pass se guzray to us par phoonk dein. Is wazife k sath zarori hai k ap Allah (SWT) ka zikar kasrat se karen or namaz bilanagha adaa kare.
Surah al-Jathiyah, verses 36–37
Falillahilhamdu rabbas samawaati warabal arzi rabbal aalameen .walahul kibriyaoo fiss smaawaati wallarzi wahoowal azeez-ul-hakeem.
Translation 36
All praise and thanks be to Allah, the Lord of the heavens and the earth, and the Lord of all that exists.
Translation 37
His is the Majesty in heaven, and He is the Omnipotent, the All-knowing of everything.
Shohar ko Apna banane ka wazifa
Apne shohar ko apna banana liye wazifa k zariye hum apni pareshaniyun ko hal karnay ki koshish krtay hain. Quran Pak main Allah (SWT) me insan k har sawal ka jawab dia hai or beshumar wazaif bataye hain boht si pareshaniyo k hal liye. Inhin mein se aik husband ko apna banane ka wazifa or us k dil mein khud k liye muhabbat paida krne ka wazifa hai.
Allah ne insan ko couple me paida kia hai or wo nikkah k bad jore main muhabbat dal deta hai. Is wazife ko karnay se shohar aap se he muhabbat karega, aap ki tamam khawahishaat ko maanyn ge or hansi khushi rahyn ge. Gussay, bad salooki, larae jhagron se bhi jan chot jae gi. Shohar ko apna bananay k liye biwi ko chahiye k isha k namaz k baad awal o akhir 11 baar durood pak parhe or ik tasbeeh jo in halat mn apki madad karsakti hai 100 martba usey parhe.
BISMILLAHILWASIO JALLA JALA LUHU
Apne shohar ko apna banane ki dua k doran apko apne masle k bare mn sochna hai.Is wazife ko mukamal karnay k baad allah se dua maangni hai k wo apke halat behtar kare. Is wazife ko karnay se aap ko shohar ki muhabbat haasil hogi inshallah. Is wazife ko karnay se aap ko zaroor kamyabi haasil hogi. Ye wazifa shohar bhi kar skta hai agar wo biwi ki muhabbat ko paana chahta hai. Is shohar ko apna banane ke liye wazifa k sath zarori hai k ap namaz waqt per parhen or Allah ka zikar kasrat se Karen.
Shohar ko Apna Banane ka Amal
Har aurat ka khawaab hota hai k us ka shohar sirf us se he muhabbat karay or usko tawajah de or zindagi bhar us ka he ban kar rahy. Is liye aurat apni taraf se poori koshish krti hai, k apni shadi shuda zindagi ko khushhaal banaye, or wo apna shohar se bhi yehi chahti hai. Lekin agar uska shohar uska khayal na rakhta ho or use tawajah na deta ho to use chahiye k wo Allah se madad mange. Aik amal jo is masle mn auratki madad karsakta hai or isse uske tamam mislay khatam ho jaein ge or usko ko shohar ki muhabbat inshallah haasil hogi.
Husband ko apna banane ki dua ko karnay k liye sab se pehlay ba wazoo halat mein farsh pr yaa kisi paak jaga par baith jaein.
Phir awal o aakhir 11 baar durood shareef prhain.
Phir bismillah hir rehmannir raheem 101 baar prhain or phir se durood shareef 11 baar prhain.
Is k baad allah pak se sachay dil or saaf niyat se dua maangain inshallah allah aap ki dua kabool karega or aap k shohar k dil mein aap k liye muhbbat paida hogi.
Inshallah is wazife par amal krnay se ap k darmiyaan sirf muhabbat qaim ho jae gi.
Shohar ko apni taraf karne ka wazifa
In Islam, making wazifa (recitation of specific verses or duas) is a form of seeking Allah's help and guidance. However, it is important to keep in mind that wazifa should not be used as a means to manipulate or control someone, as this goes against Islamic teachings about treating others with respect and kindness.
Instead of seeking a specific wazifa to change someone's heart, it is recommended to focus on one's own behavior and actions and to treat one's spouse with love, kindness, and compassion. One can also make dua (supplication) to Allah for guidance and help in keeping a relationship happy and peaceful.
Shohar ko kabu karna wazifa
Here is a shohar ko apna banane ka wazifa powerful that is believed to help improve your relationship with your husband:
The wazifa is as follows:
"Yaa Waaliyo" (O Guardian).
This wazifa is recommended to be recited 101 times after every salah (prayer), along with Durood Shareef 11 times before and after.
This is believed to help you gain control over your husband's thoughts and actions and make him more loving and affectionate towards you.
It is important to remember that wazifa should be performed with sincerity and faith, and it is not a magic solution. It is also crucial to seek the advice of a qualified religious scholar or Imam to guide you through the proper way of performing the wazifa. Ultimately, a happy and successful marriage requires effort and patience from both spouses, and it is essential to work together to build a strong and healthy relationship.