Updated on September 14, 2023 by admin
Jadu Khatam Karne ki Surat: Islam hamain insaniyat ka daras deta hai or hamain un tamam bato se rokta hai jiise kisi ko nuqsan pohnche. Quran-e-pak mn ik irshad hai jis ka mafhoom ye hai ke "jis ne ik insan ko qatal kia isne goya puri insaniyat ka qatal kia."
Kala Jadu ik haqeeqat hai qk inka zikar Allah Pak ne Quran-e-Pak main bi kia hai. Kala jadu islam main haram hai or iski saza bi bht ziyada hai. Islam men kala jadu khatam karne ka tor diya dua hai. Kala jadu karne walo pe jannat haram hojati hai or dunya mn bi Allah Pak unhain apni rehmat se marhoom kardeta hai. Allah Pak is dunya main insan ko beshumar aazmayshon se guzarta hai or jo log aazmayesh per pure utarte hain unhain Dunya-o-Akhirat dono mn nawazta hai .
Boht se log hain jo Dunya ki Pareshaniyo se nijat k liye Allah Pak se dua karne ki bajaye ghalat rasta yani k Kale jadu ka sahara lete hain. Kala jadoo karne wale mushkil main ghire logo ko aise karamat dikhate or aisa lalach dete hain k kamzor eman wale log Unki bato mn akar Shirk jaisa gunah kar deta hain.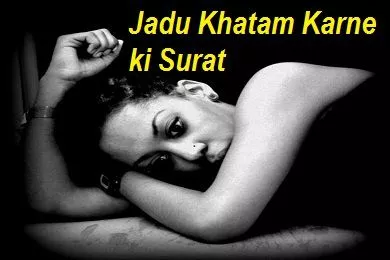 Is Dunya me insan apne faide k liye dosro ko nuqsan pohnchane se bi gureze ni karta or kale jadu se kisi bi insan ko nuqsan pohnchana boht asan hota hai. Jahan Quran-e-pak main Kale jadu ki haqeeqat or usse hone wale nuqsan k bare mn bataya gaya hai wahin isse bachne k liye bi bht sari Suraten, Duaen or Wazife hain.
Ye sab tarike kala jadu khatam karne ka mazboot ilaz hain. Surah Al-Falaq or Surah An-Nas jo Quran-e-Pak mn nazil hone wale "CHAAR QUL" main se hain wo kale jadu k asar ko khatam karti hain.
Ye dono suraten Allah Pak ne nazil tab ki thi jab ik Yahodi ne Hazrat Muhammad ﷺ per jadu karne ki Jisarat ki thi. Hazoor Akram ﷺ k Qalab-o-Aqal per to iska koi asar na hua tha mgr Jism-o-Mubarak per asar hua tha. Tabi Hazart Jibrail in dono surato ka paigham le kar aye the Allah pak ki taraf se. Dono suraten Daraj zail hainaa.
Surah An-Nas

Bismillaahir Rahmaanir Raheem

Qul a'uzu birabbin naas

Malikin naas

Ilaahin naas

Min sharril was waasil khannaas

Al lazee yuwas wisu fee sudoorin naas

Minal jinnati wan naas

Surah Al-Falaq

Bismillaahir Rahmaanir Raheem

Qul a'uzoo bi rabbil-falaq

Min sharri ma khalaq

Wa min sharri ghasiqin iza waqab

Wa min sharrin-naffaa-saati fil 'uqad

Wa min shar ri haasidin iza hasad
Agar kisi insan ko lagta hai k usper kala jadu kia jaraha hai to wo in dono surato ko har namaz k bad parh kar khud per dum kare. Ye suraten kisi or per se kale jadu k asar ko khatam karne k liye bi parhi ja sakti hain.
Jadu Khatam Karne ki Surat | Quran ki Ayat se jadu ka ilaj
Islam is dunya main moujood har insan ko bhai chare or insaniat ka daras deta hai. Is dunya men bahut se log hain jinhain Allah pak azmate hain or wo us azmayesh per khare utarte hain or Allah ki taraf se inam k haqdar bante hain. Mgr boht se log aise bi hain jo dunyawi mushkilo se bachne k liye Allah se dua ki jagah kala jadu jaise haram kamo ka sahara lete hain. Beshak Jadu hai or Quran-e-Pak mn iske bare mn Surah Al-bakra main irshad farmaya hai.
Jo log black magic karte hain ya jadu sikhate hain ya jadu k zariya apni mushkilat ko door karne ki kossish karte hain wo Allah Pak k nazdeek shaitan hain or Allah Pak shaitano ko kabi maaf ni karta. Agar koi aapse nafrat karta hai aur isi nafrat ki wazah se aap par kala jadu ka prayog karta hai to isse chutkara pane hetu Islam main kale jadu ka ilaj batay gaya hai.
Kala jadu islam men ik gunah or kisi bo insan ko kala jadu kisi bi faide ya kisi k nuqsan k liye ni karna chahiye. Allah Pak dilo k haal janta hai or wo behatr janta hai k konsa insan kis qabil hai. Kale jadu ka bht sare alamat hain jaise nend na ana, bar bar gussa ana, piyas barh jana,na umeedi, zindagi se beazri, jisam main bilawajah dard, chezen bholna wagera.
Agar apko ye alamat mehsoos hon to behatr hai ap pehle doctor k pass jayen. Agar doctor apka ilaj na karsake to phir Ap Kale jadu se bachne k liye Allah pak ne jo ayat nazil hain unki ziyada se ziyada tilawat Karen. Ayat-ul-kursi Surah BAqra ki kuch ayat ko kaha jata hai or ye hifazat k liye behtareen dua hai
llahu laaa ilaaha illaa huwal haiyul qai-yoom; laa taakhuzuhoo sinatunw wa laa nawm; lahoo maa fissamaawaati wa maa fil ard; man zallazee yashfa'u indahooo illaa be iznih; ya'lamu maa baina aideehim wa maa khalfahum; wa laa yuheetoona beshai 'immin 'ilmihee illa be maa shaaaa; wasi'a kursiyyuhus samaa waati wal arda wa la ya'ooduho hifzuhumaa; wa huwal aliyyul 'azeem
Ayat-ul-kursi ko kale jadu k ilaj k liye parhne k liye ap pehle koi waqt muqarar Karen.
Phir usi waqt ik glas pani len or usmn 21 martaba Ayat-ul-kursi parh kar Karen awal-o-Akhir Durood Shareed k sath Parhte hue apne 7 martaba Ayat-ul-Kursi parhne k bad paani per phonk marni hai.
Aur phir dubara parhna shuro karna hai. Is amal ko apne 21 din tak bilanagha karna hai.
Surah Fatiha se jadu ka ilaj | Jadu se bachne ki dua in Quran
Koi bi amal jo kisi ko nuqsan pohnchane k irade se kia jaye wo islam mn haram hai. Kale jadu men koi bi insan jinnat or dosre amal k zariya kisi dosre insan ko apne zaati faide k liye nuqsan pohnchane ki kossish karta hai.
Kala jadu har mazhab k log karte hain apne zaati faida hasil karne k liye or logo k liye iske mukhtalif nam bi hain. Agar koi apne fayde keliye kala jadu karta hai to Islam main Kala jadu ka tor bhi hai. Wohi log istemal karte hain jinka eman kamzor hota hai or jo Allah ki rehmat se mayoos hocuke hote hain. Aise logo ka Allah per koi Yaqeen or wo kisi bi tarah bs apna faida chahte hain.
Ajkal Kala jadu bht ziyada barh gaya hai qk log jaldi kamyabi hasil karna chahte hain or kamyabi k liye dua or mehnat per yaqeen nahi rakhna chahte. Kale jadu k tor k liye quran-e-Pak mn boht sari suraten hain jaise k Surah Al-Falaq, Surah Al-Ikhlas, Surah Al- fatiha, Surah Al-Nas or Surah Al-Bakra ki kuch ayat.
Ye sari Suraten kale jadu se bachne, hifazat k liye or kisi bi kisan k shaitani asar ko door kane main boht madad karti hain. Inhi sab Surato ka ik amal hai jo kale jadu ka intehai karamad tor hai. Is amal k liye apko karna ye hai k fajar ki namaz k bad 41 bar awal-o-khir durood shareef parhna hai or iske bech mn.
Jadu karne wale ki saza in Islam
In Islam, using magic, which is called "jadu" in Urdu, is haram (forbidden) and a very big sin. The Quran states that magic is the work of the devil and that those who practice it will be punished in the afterlife.
Kala jadu karne wale ki saza or the punishment for those who practice magic in Islam is severe. The Hadith (sayings of the Prophet Muhammad) states that the punishment for those who practice magic is to be killed.
It's important to remember that the punishment for any sin is ultimately in the hands of God, and it is not for humans to judge or take matters into their own hands. It's important to always have faith in the justice of the Almighty Allah and to seek forgiveness for any wrongs committed.
It's also important to mention that it's important to seek medical help if you feel that you or someone else is under the influence of some kind of magic or sorcery.
So, it's important to remember that it's not a good idea to accuse someone of sorcery without any solid evidence, and it's important to take the help of a religious leader or imam to guide you in the right direction.
Jadu khatam karne ki dua
Here is a commonly recited and powerful dua for breaking the effects of jadu:
"Bismillah hir Rahman ir Raheem. La ilaha illa anta subhanaka inni kuntu minaz-zalimeen."
Translation: "In the name of Allah, the Most Merciful, the Most Compassionate. There is no deity but You, You are Glorious. I was indeed among the wrongdoers." (Surah Al-Anbiya, 21:87)
It is also recommended to read the Quran regularly and sincerely ask forgiveness for any sins that may have led to the effect of jadu. Also, constantly remembering and praying to Allah can protect you from bad things, like jadu.
It is important to note that jadu is a serious matter and should not be taken lightly. If someone thinks they may have been the target of jadu, they should talk to an Islamic scholar or spiritual healer they trust, and who knows what they are doing.
Jadu se bachne ki surah
There are several surahs in the Quran that can be recited for protection from black magic or evil spells, including:
Surah Al-Falaq: This surah seeks refuge in Allah from the evil of the darkness, including black magic.
Surah An-Nas: This surah seeks refuge in Allah from the evil whispers of the devil.
Surah Al-Baqarah: This is the longest surah in the Quran and it is also recommended to recite it for protection from black magic, Jins, etc.
Surah Al-Ikhlas: This surah affirms the oneness of Allah and is believed to provide protection from evil.
It is important to note that while reciting these surahs can be beneficial, true protection comes from Allah, and seeking His protection and guidance through prayer and righteous actions is also important.
Contact our Mufti sahab and he will do hazrat jibrail ka dum.